Thermal Spray Coatings Market To Witness Enhanced Demand Owing To Increasing Usage In Aerospace, Automotive, Printing And Medical Applications Till 2030 | Grand View Research, Inc.
According to a new report published by Grand View Research, The global market growth is attributed to the developments in aerospace, automotive, industrial gas turbines, oil & gas, steel, printing, and medical applications. The thermal spray coatings provide electrical/thermal conductivity, enhanced wear resistance, lubricity, chemical resistance, heat resistance, and corrosion resistance to the machine parts.
Thermal Spray Coatings Industry Overview
The global thermal spray coatings market was valued at USD 10.73 billion in 2021 and is anticipated to reach USD 15.41 billion by 2030, growing at a CAGR of 4.8% over the forecast period. The growth of thermal spray coatings depends on its use in various end-use industries like automotive, aerospace, medical, industrial gas turbine, printing, steel, and pulp & papers. The rising use of gas turbines in helicopter engines, tanks, ships, and locomotives is expected to help augment the demand for thermal spray coatings due to their high temperature and corrosion resistance which protects the parts against fire in high-temperature and moisture-laden conditions.
The properties provided by thermal spray coatings include wear resistance against abrasion, cavitation, and erosive forces, chemical resistance, electrical insulation, and better adhesion between the substrate and top layer of components. The stringent regulations by U.S. EPA, REACH, and OSHA regarding the curtailment of hard chrome plating, which produces a byproduct recognized as a carcinogen, influence the coating manufacturers to adopt sustainable solutions that can further propel the market for thermal spray coatings in various end-use industries.
Gather more insights about the market drivers, restrains and growth of the Global Thermal Spray Coatings market
In North America, the U.S. accounted for the largest share of the regional market revenue in 2021. This is attributed to the high demand from power generation plants for industrial gas turbines, which are expected to witness a surge in gas turbine demand due to the policy transition of the U.S. government towards replacing coal with natural gas for electricity generation. According to the Rural Health Information Hub, there are currently 46 million adults over the age of 65 years living in the U.S., which is expected to grow to 90 million by 2050. The rising geriatric population and improved healthcare services in the U.S. are expected to drive the market for orthopedic implants required in knee cap replacement surgery and are anticipated to grow the market in the region.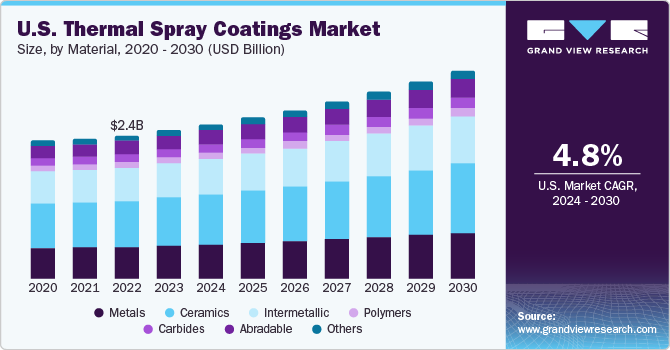 Thermal Spray Coatings Market Segmentation
Based on the Product Insights, the market is segmented into Metals, Ceramics, Intermetallics, Polymers, Carbides, Abradables, and Others.
The ceramics product segment dominated the global market with a revenue share of more than 31.5% in 2021. Ceramic coatings have excellent adhesion property which helps them adhere to the surface and provide corrosion protection, thermal barrier, dielectric strength, and sliding wear resistance to the coated materials.
Abradable material is used for coating shafts, drive collars, labyrinth seals, compressor wheels, compressor impellers, and turbine wheels, which will further fuel its growth in the aerospace, steel, industrial gas turbine, and automotive industries.

Based on the Technology Insights, the market is segmented into Cold Spray, Flame Spray, Plasma Spray, HVOF, Electric Arc Spray, and Others.
The plasma spray technology segment dominated the global market in 2021 and accounted for a revenue share of more than 32.0%. This process provides the advantage of spraying metallic and ceramic materials onto a variety of surfaces with excellent bond strength while minimizing distortion of the substrate on both large and small components offering.
The growing incidence of orthopedic injuries or diseases, such as arthritis and osteoarthritis and the rapid rise in the geriatric population, especially in Europe and North America, are propelling the demand for orthopedic implants, which might fuel the growth of plasma thermal spray coatings technology.
This type of repair increases aircraft availability at a reduced operational cost through the sustainment of legacy aircraft components and can positively impact the segment growth in the aerospace sector.
Based on the Application Insights, the market is segmented into Aerospace, Industrial Gas Turbine, Automotive, Medical, Printing, Oil & Gas, Steel, Pulp & Paper, and Others.
The aerospace application segment dominated the global market and accounted for the largest revenue share of more than 32.0% in 2021. The parts in an aircraft are prone to degradation owing to particle erosion, hot corrosion, metal-to-metal wear, and fretting.
The global focus on decarbonization is increasing due to the rising environmental issues arising from coal-fired power plants. This has driven many companies to work to develop power generation systems to develop alternatives to achieve carbon-free power generation.
Since ammonia does not produce carbon dioxide (CO2), it can push the power generation companies to utilize industrial gas turbines for power generation requirements, simultaneously growing the demand for thermal spray coatings.
Based on the Thermal Spray Coatings Regional Insights, the market is segmented into North America, Europe, Asia Pacific, Latin America, & Middle East & Africa.
North America dominated the global market and accounted for the largest revenue share of more than 28.5% in 2021. The demand for thermal spray coatings in North America is primarily driven by the high demand from key industries, including aerospace, oil & gas, automotive, medical, and power generation.
The aerospace sector in the Asia Pacific is gaining traction due to major aircraft manufacturers like Airbus setting up manufacturing bases in the region and sourcing aircraft components from regional players in India like the Tata Group, Dynamatic Technologies, and Mahindra Group Companies.
The improving healthcare sector, majorly in GCC countries, is anticipated to further fuel the demand for medical devices, which, in turn, will create lucrative growth opportunities for the regional market for thermal spray coatings.
Market Share Insights:
March 2020: Praxair Surface Technologies, Inc. signed an agreement with Siemens, under which the former company will provide coating services across all Siemens products. Since Siemens has its presence in the aviation, energy, and other industries, this contract can result in strengthening the market position of Praxair Surface Technologies, Inc.
December 2019: Bodycote acquired Ellison Surface Technologies. The acquisition enhances the company for being one of the largest providers of thermal spray and engineered coating surface technology services in the world. Ellison's business is an excellent strategic fit with Bodycote's existing Surface Technology business, which itself has seen strong structural growth in recent years.
Key Companies Profile:
Established players are establishing contracts with major end-user companies to strengthen their market position.
Some of the prominent players operating in the global thermal spray coatings market are:
Praxair Surface Technologies, Inc.
Höganäs AB
H.C. Starck Inc.
Castolin Eutectic
Wall Colmonoy Corp.
Powder Alloy Corp.
Saint-Gobain S.A.
Carpenter Technology Corp.
Fujimi Incorporated
Durum Verschleiss-Schutz GmbH
Montreal Carbide Co. Ltd.
Kennametal Stellite
Oerlikon Metco
GTV Verschleißschutz GmbH (GTV Wear Protection GmbH)
Flame Spray Technologies
Medicoat AG
Progressive Surface, Inc.
TOCALO Co., Ltd.
American Roller Company, LLC
Bodycote plc
Lincoteck Surface Solutions
John Wood Group PLC
F.W. Gartner Thermal Spraying
Vitta Corporation
Flame Spray Coating Co.
Polymet Corporation
Curtis-Wright Corporation
Metallisation Ltd
TST Coatings, Inc.
Air Products and Chemicals, Inc.
Metallizing Equipment Co. Pvt. Ltd.
TWI Ltd.
Integrated Global Services
A&A Thermal Spray Coatings
Thermion
Precision Coatings, Inc.
Cincinnati Thermal Spray, Inc.
Plasma Technology Inc.
HFW Industries, Inc.
Racine Flame Spray Inc.
BryCoat Inc.
Order a free sample PDF of the Thermal Spray Coatings Market Intelligence Study, published by Grand View Research.
About Grand View Research
Grand View Research is a full-time market research and consulting company registered in San Francisco, California. The company fully offers market reports, both customized and syndicates, based on intense data analysis. It also offers consulting services to business communities and academic institutions and helps them understand the global and business scenario to a significant extent. The company operates across multitude of domains such as Chemicals, Materials, Food and Beverages, Consumer Goods, Healthcare, and Information Technology to offer consulting services.
Web: https://www.grandviewresearch.com
Media Contact
Company Name: Grand View Research, Inc.
Contact Person: Sherry James, Corporate Sales Specialist – U.S.A.
Email: Send Email
Phone: 1888202951
Address:Grand View Research, Inc. 201 Spear Street 1100 San Francisco, CA 94105, United States
City: San Francisco
State: California
Country: United States
Website: https://www.grandviewresearch.com/industry-analysis/thermal-spray-coatings-market