Enzymes Market To Forsee Commendable Growth of $17.88 Billion By 2028, Due To Technological Breakthrough And Rising Consumer Awareness Regarding Health | Grand View Research, Inc.
According to new report available with Grand View Research, the enzymes industry is anticipated to scale new growth heights based on rising global population and ongoing urbanization contribute to growth in the food and beverages sector globally.
Enzymes Industry Overview
The global enzymes market size was valued at USD 10.69 billion in 2020 and is expected to reach USD 17.88 billion by 2028, expanding at a CAGR of 6.5% over the forecast period.
Growing consumer awareness regarding health has resulted in surging demand for functional food and beverage products, which is further anticipated to trigger the product demand in the coming years. Enzymes are derived from the organs of animals such as plant materials, microorganisms, and calf stomach. With the advent of different technologies including genetic engineering, enzyme manufacturers have an option to produce the necessary quantity of enzymes in selected production hosts such as transgenic plants and microorganisms. Market players are using appropriate microorganisms, such as enzyme-producing yeast, bacteria, and fungi, to produce enzymes on a commercial scale.
Gather more insights about the market drivers, restrains and growth of the Global Enzymes Market
Producers have shifted to eco-friendly technologies for various purposes including the improvement in product properties and product modification. The market for enzymes is likely to expand at a robust growth rate over the forecast period. A technological breakthrough in the industry is considered one of the prime factors supporting market growth.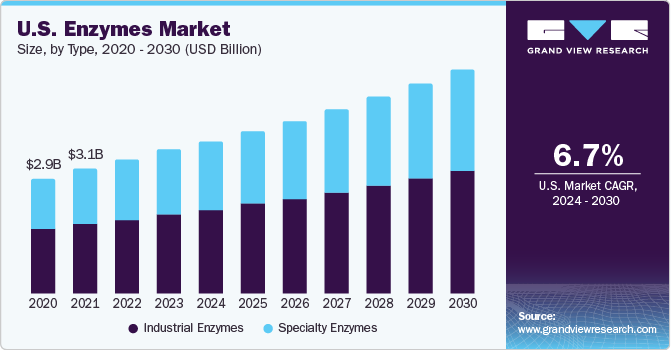 The growth of enzymes across the world can be attributed to the increasing demand from brewing applications and bakery products. Enzymes are used during the production of fruit juices to increase juice yields and improve the quality of fruits. In wine processing, they are used to maintain the color, clarity, and organoleptic properties of wine. Increasing global population and ongoing urbanization contribute to growth in the food and beverages sector across the world, further contributing to market growth in the near future.
The increasing demand for swine and poultry feed plays a vital role in the growth of the global feed industry. These feeds help in improving the overall health and well-being of swine and poultry animals. The animal feed industry comprises livestock that is raised through the proper use of nutrient-rich fodder. The growth of the animal feed industry across the world is expected to have a positive influence on the dynamics of the market during the forecast period.
Enzymes Market Segmentation
Based on the Product Insights, the market is segmented into Carbohydrase, Proteases, Lipases, Polymerases & Nucleases, and Others.
The carbohydrases segment dominated the market with a revenue share of over 45.0% in 2020. This is attributed to the growing demand from numerous end-use industries including animal feed, food and beverages, and pharmaceuticals.
Protease is mainly used for protein breakdown, the catalytic hydrolysis of protein peptides to amino acids, and in various applications such as animal feed, chemicals, detergents, food, pharmaceutical, and photography.
Lipases are used for the catalytic hydrolysis of fats or lipids. They are used for transporting, digesting, and processing dietary lipids such as fats, oils, and triglycerides. Rising demand for phospholipase as a biocatalyst in various industries including biodiesel, nutraceuticals, food, detergents, oil, bioremediation, agriculture, paper, cosmetics, and leather is anticipated to drive the market.
Based on the Type Insights, the market is segmented into Industrial Enzymes and Specialty Enzymes.
The industrial segment dominated the market with a revenue share of over 55.0% in 2020. This is attributed to the rising demand in various end-use industries such as food and beverages, detergent, animal feed, textile, paper and pulp, and wastewater.
Enzymes also play a prominent role in cellulosic conversion for the production of cellulosic ethanol. The increasing rate of fossil fuel depletion, along with the growing demand for green alternatives, is projected to increase the demand for biofuels, which, in turn, is likely to drive the market over the forecast period.
Based on the Source Insights, the market is segmented into Plants, Animals and Microorganisms.
The microorganisms segment dominated the market with a revenue share of over 80.0% in 2020. This is attributed to the increasing demand for fungi-based enzymes in numerous end-use industries.
The animals segment is another major segment after microorganisms. Animal-based enzymes are mainly procured from the pancreas and stomach of cattle and swine.
Plant-based enzymes are sourced from plants, for instance, bromelain is derived from pineapple and papain from papaya. Prominent enzymes found in plants include protease, lipase, cellulase, and amylase.
Based on the Regional Insights, the market is segmented into North America, Europe, Asia Pacific, Central & South America, and Middle East & Africa.
North America dominated the market with a revenue share of over 35.0% in 2020. This is attributed to a strong presence of various end-use companies in the food and beverage, pharmaceuticals, laundry detergent, and personal care and cosmetics industries, along with high scope for research and development activities in major countries of the region.
Europe is one of the major producers of medicinal, pharmaceutical, and cosmetic products. The presence of major pharmaceutical and cosmetics companies such as AstraZeneca plc, Beiersdorf, Hoffmann-La Roche Ltd., MerckKGaA, Sanofi, New Avon Company, and Unilever in the region is expected to propel the demand for enzymes.
The Asia Pacific region is expected to be a prominent market over the forecast period on account of the growing meat production, particularly in China.
Market Share Insights
April 2021: BASF SE decided to collaborate with Sandoz GmbH, a subsidiary of Novartis AG, to invest initsKundl/Schaftenau Campus in Austria.
Key Companies Profile:
The market for enzymes has grown significantly due to their increasing consumption in numerous end-use applications such as food and beverages, paper and pulp, nutraceuticals, detergents, pharmaceutical, research, and biotechnology. The majority of the market participants have focused their research and development efforts on the development of innovative enzyme products in bulk for their use in multiple applications.
Some of the prominent players in the enzymes market include,
BASF SE
Novozymes
DuPont Danisco
DSM
Novus International
Adisseo
Associated British Foods Plc
Chr. Hansen Holding A/S
Advanced Enzyme Technologies
Lesaffre
Enzyme Development Corporation
Order a free sample PDF of the Enzymes Market Intelligence Study, published by Grand View Research.
About Grand View Research
Grand View Research is a full-time market research and consulting company registered in San Francisco, California. The company fully offers market reports, both customized and syndicates, based on intense data analysis. It also offers consulting services to business communities and academic institutions and helps them understand the global and business scenario to a significant extent. The company operates across multitude of domains such as Chemicals, Materials, Food and Beverages, Consumer Goods, Healthcare, and Information Technology to offer consulting services.
Web: https://www.grandviewresearch.com
Media Contact
Company Name: Grand View Research, Inc.
Contact Person: Sherry James, Corporate Sales Specialist – U.S.A.
Email: Send Email
Phone: 1888202951
Address:Grand View Research, Inc. 201 Spear Street 1100 San Francisco, CA 94105, United States
City: San Francisco
State: California
Country: United States
Website: https://www.grandviewresearch.com/industry-analysis/enzymes-industry